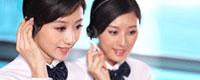 Name: FRED
Tel: +86-13126526612
E-mail: info@medi-rehatek.com
Add: North Yanhe East Road 184,Bicheng Street,Bishan District,Chongqing
Skype: fred201069



Product name : Rotational Socket Adapter with Pyramid

Product No. : A10
Details:
Rotational Socket Adapter with Pyramid/Prosthetic Socket Adapter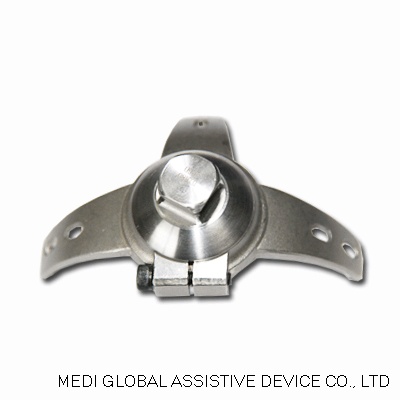 | | | |
| --- | --- | --- |
| Material | Model No. | Weight/g |
| TITANIUM ALLOY | A10-T | 135 |
| STAINLESS STEEL | A10-S | 163 |
Basic Training of Upper Limb Prosthesis
Generally as long as the prosthetic socket of residual limb is appropriate, the strap does not require training when its use is appropriate. But the first installer should learn to methods of wearing, teach patient the most basic wear and passive wrist rotation with prosthetic hand and the method of hand opening and closing. However, upper arm amputees should learn to use passive control of the elbow lock.
Cable-controlled and electric prostheses are functional prosthetic hands, the difference is that the former one is using its own power, the latter one is using external power. In order to improve the use of these
prosthetic hands
,patients are required to use under the correct guidance and training.
1)Training for wearing on and off prosthesis;
Putting the residual limb into prosthetic socket firstly, and then patients put the sound limb through shoulder strap.It is the contrary to wear off the prosthesis.
2) Prosthesis manipulation training
Training for
prosthetic fingers
opening and closing :

For example, cable-controlled prosthesis relies on both shoulders that flex forwards forcibly, and the prosthesis is closed by elastic force. Forearm myoelectric prosthesis touches the sensor via forearm flexor and extensors, the signal can make the
prosthetic fingers
open and close through the sensor
Elbow flexion, elbow open and close training:
When both shoulder have abduction, lifting up and down, the elbow can be closed on cable-controlled prosthesis The elbow can be freely and passively flexed and extended when the shoulder controls the flexion and extension on the sound stump. Some cable control prosthetic fingers that have the device that offers friction on wrist rotation, bolt on wrist flexion, you can adjust to the desired location.
The selection for primary hand :
Normal hands, also have the primary and secondary use, the majority of people give priority to use the right hand (also known as dextromanuality). Upper limb amputation, if it is unilateral, the amputation of the primary hand can only be a sound hand, the prosthetic hand only can be an assistive hand. Prosthetic fingers training should focus on the co-operation action between two hands . If the amputation of both hands,patient should choose the residual limb with good condition and better prosthetic hand function as primary hand.