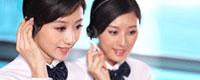 Name: FRED
Tel: +86-13126526612
E-mail: info@medi-rehatek.com
Add: North Yanhe East Road 184,Bicheng Street,Bishan District,Chongqing
Skype: fred201069



Product name : Children Hip Abduction Orthosis

Product No. : ZHX-07-11
Details:
【Product name】 Children Hip Abduction Orthosis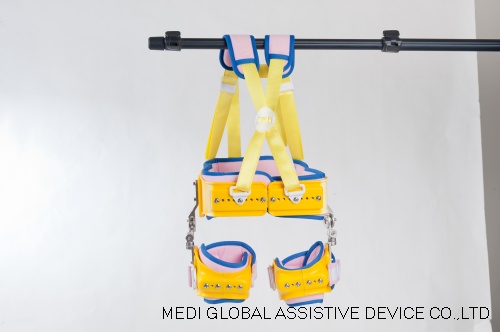 What is orthosis/orthtoics?
Orthotics (Greek:ortho, "to straighten" or "align") is a specialty within the medical field concerned with the design, manufacture and application of orthoses. An orthosis (plural: orthoses) is "an externally applied device used to modify the structural and functional characteristics of the neuromuscular and skeletal system".[1]
【Size】Universal
【Function &Feature】
Function: Children Hip Abduction Orthosis is mainly composed of lumbosacral round support, thigh round support, hip hinge with three-dimensional angle being adjustable that keeps the hip of children in position of flexion, abduction, external rotation.
Feature: hip hinge with three-dimensional angle being adjustable.The flexion and extension, or internal and external rotation angle of hip can be adjusted and fixed according to the doctor's requirements; lumbosacral and thigh round supports are made from a special plastic pate with good cold plasticity, which can be a good fit for body curves; the fixed straps are made of Velcro, it is convenient to take on and off, adjust; foam lining offers a good ventilation; It can be used in the supine, sitting and standing position if children.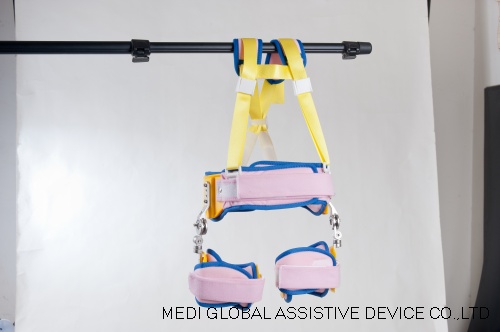 【Indication】
Hip dysplasia, developmental dysplasia of the hip (DDH)[1] or congenital dysplasia of the hip (CDH)[2]is a congenital or developmental deformation or misalignment of the hip joint.
Congenital hip dislocation with waist circumference of 40cm - 50cm , children with hip instability after manual reduction as well as conservative treatment or post-operative maintenance for congenital acetabular dysplasia.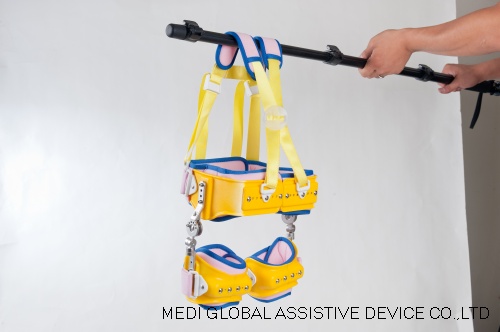 【Structure】
There is a hip hinge each between bilateral knee support and waist support , you can change the hip abduction angle through abduction device on hip hinge , and control the flexion range of hip by flexion-limit setting dial.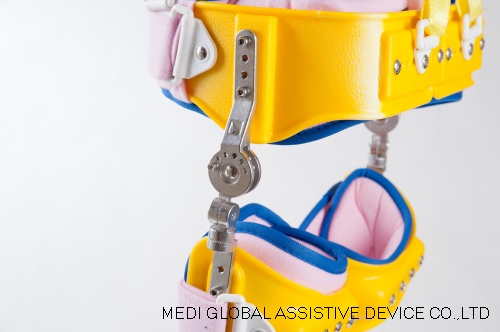 Reference:
ISO 8549-1:1989
"Your Orthopaedic Connection: Developmental Dysplasia of the Hip".
"Definition: congenital dysplasia of the hip from Online Medical Dictionary".