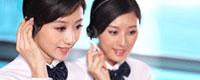 Name: FRED
Tel: +86-13126526612
E-mail: info@medi-rehatek.com
Add: North Yanhe East Road 184,Bicheng Street,Bishan District,Chongqing
Skype: fred201069



Product name : Diabetic Shoes

Product No. : TN-6-15M
Details:
MEDI-REHATEK Diabetic shoes are one of Lower Limb Orthoses.
【Product name】Dibabetic shoes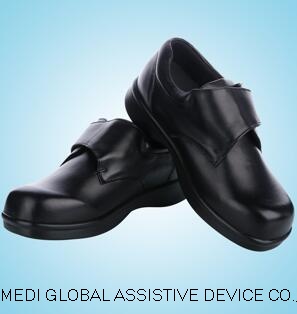 【Size】 39.40.41.42.43
【Material】 The bottom of orthopedic shoes is made from rubber, its first layer is leather
【Product Description】
1. Orthopedic shoes offers prevention and protection of patients with foot Injury caused by vascular disease and mental disease
2. Alleviate foot pain and disease caused by insufficient supply of blood
3. Prevention of pain caused by edema while walking and hard-to-heal wound in early period of diabetic foot
4. Prevent and protect toe from aggravating the nerve compression and injury
5. Internal insoles can be replaced, internal space of shoe is large enough to accommodate with orthopedic insoles with special effects
6. Prevent the elderly from foot deformity such as hallux valgus,foot bunions etc.
7. Prevention of foot clavus and calluses etc
8. Natural handmade first layer of cowhide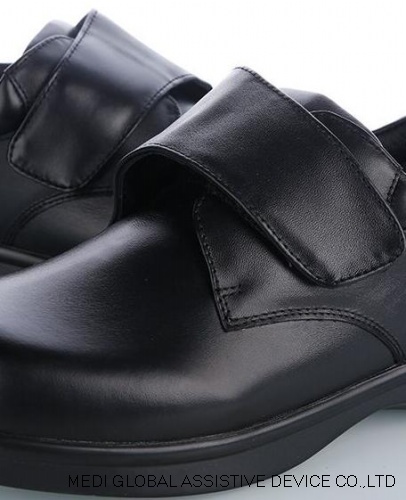 9.Round and wide toe cap is wearing health and comfort.A lot of people's feet will be widened as age increases.Round and wide design allows toes to move freely up and down as the movement space increases.Toes won't suffer from compression
10. Velcro straps with the high viscosity are easy to wear on and off, the appearance looks simple and elegant.The elderly wears convenience
11. The high-cut design protects ankle and prevents foot disease.The high-cut heel offers better stability to ankle, combines with professional health-care insoles,that prevents foot disease, effectively relieves foot fatigue in the elderly
12. EVA foam rubber-sole is non-slip and shock-absorbing.High-density EVA sole enhances the effect of shock-absorbing and protects foot arch and sole.EVA material enhances the ability of waterproof and corrosion-resistant features. Sole groove effectively prevents slipping,is not easy to slide down, improves the safety factor
Sincerely welcome contact us for further conversation on orthopedic shoes.

How to do business with Chinese suppliers?
Some people are planning to import something from China to start their small business and, they assume it'd be a lot easier and cheaper to buy directly from Chinese manufactures and skip a local wholesaler or other middle steps.
But after several rounds of contacting and negotiating, they sense deep frustration and many of them end up dropping their purchase plan. Well, when things don't work out, you should at least try to understand why and how. Thinking without knowing is mere imagination. Depend on it if you are satisfied by just imaging your profit and success.


Before you start your purchase for orthopedic shoes, MEDI-REHATEK will introduce you the important notes as below:

Many foreign buyers complain it is so hard to import from China. Their find their purchase inefficient and ineffective, long-winded and usually full of "surprises".

Here are some typical problems and obstacles they encounter.
1)High MOQ (minimum order quantity) for shoes for diabetics

This is the biggest barrier that keeps the small buyers out.

At the very beginning, the buyers may be very excited to have found the suppliers for the product(s) they want to buy. But soon they will find out that the manufacturer has high MOQ requirements to even make a quotation.

Why do the factories have high MOQ requirement for shoes for diabetics ?

A. The factories invested huge amounts to build a factory and, more importantly, write the paychecks.Maintenance of assets is also a constant hole that sucks in cash.
They need big orders and big buyers to keep their factory operation in a good flow.
They need big profits via these big orders to cover these production costs.

B. The factories also have to buy the parts and raw materials from the material suppliers. No matter how small an order is, they will need to make molds and dies for it, and they'll need to purchase all required materials for diabetic shoes. Unless the order is for regular models that the manufacturer frequently makes and, while it happens that there are preserved quantities available in their stock, they may be able to offer you a wholesale rate that they usually give for a large order quantity. In reality, however, many buyers want to have specific design(s) for their order. The manufacturers' material suppliers also have their MOQ. In order words, the factories will have no choice but to order a relatively large amount of each material needed for a specific order. They thereby lose but not profit from the order. Concern about price will be discussed below.

C.Unlike the stock market where deals are made virtually in a flash of time, production of an order takes real time and space. The manufacturer need to schedule dates and times, and number of workers and material for the production of any order, regardless of any quantity. This process itself produces cost. Nevertheless, when an order is rolling on the line, other products will have to be pulled over or delayed. This is to say, that the opportunity cost of a small order partially includes the profit off a confirmed large quantity order. The real question is, why should they compromise so much for unconfirmed small orders with uncertain potential customers over existing cash cows?

2) Unit Price of shoes for diabetics is not cheap!

Besides MOQ, the buyers are often surprised to learn that the unit price for shoes for diabetics, or even just for the sample, are much higher than expected.

They expected prices in China to be very cheap.But when they receive the quotations and work out the final prices (including the transportation fee, import duty, handling fee), they find it is not worth to buy from China. It is more economic to buy from their local wholesaler.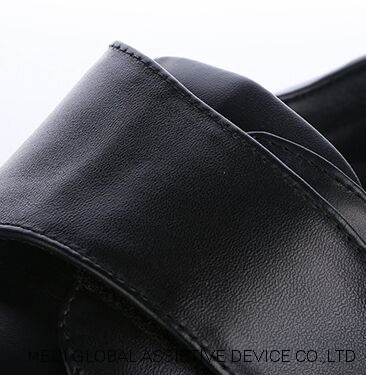 Why are price excessive?

For small order quantities, or trial orders with specific customized designs, the manufacturers will need to include many items while making your quotation. They will put all the expenses into the prices, which include comprehending, designing, and confirming product and production requirements, molding and die making, sourcing and purchasing of parts and materials, scheduling production, labor costs, asserts depreciation, opportunity cost of other orders while the assembly lines are occupied for your production, etc. Remember, they actually lose profit if the order is way below their MOQ. If you think that they are making profit out of your trial order or sample order, you are way mistaken. No factory will bother making so much effort for such insignificant gains. If they agree to make a sample or deliver a trial sample to you, they hope to establish further win-win relationship with you.

What must be mentioned is that the per unit cost for making a small amount of shoes for diabetics is usually much higher than that of a large quantity, because less units share all other costs except for parts and material. This is the reverse of the economy of scale of mass production.

Some may ask why the factories would not try to pose a friendly gesture by offering a low sample price or trial quotation for diabetic footwear. Well then our buyers would be a little surprised with their thinking. The manufactures even do not recognize you. They do not intend to profit from you on a trial or sample order, but it doesn't mean they are willing to make a potential lose for some non-solid opportunities. They, as factories, are not likely to run, but new buyers won't be given much credit until they prove themselves.

What's more, a proper order may not be placed after the sample(s) or trial orders for many possible reasons. The manufacturers have to take precautions for damage control.


3) Terms of Payment

Most of the new buyers are new to the "mysterious China import business".
They want to earn profits but they are frightened by so many rumors from thousands of aspects, of various forms and versions.They learn that many fraud transactions happen in E-trade. They are very cautious when buying something outside their country.They only accept safe payment platform or banking system, like Paypal,credit cards, etc. But these paying platforms are used mostly in retail business and for small orders only. Manufacturers accept the normal international payment methods, like telegraphic transfer, Letter of Credit, and so on.

4) Lead Time of diabetic shoes for women

Almost all manufacturers don't have excessive stock of finished products, nor do they have large spare of material or parts, unless when they just had a cancellation of order by their buyer, or if detective products occur. You obviously can't not count on the chance of the coincident that the factory having just enough right products when you need them.
As mentioned above, even for a small or sample order, the manufacturer has to source materials before they can produce, just like for large orders. This means it can take from 1 week to 2 months for them to be ready for your production. In peak seasons, factories can be overwhelmed by orders. Since they've been so busy, and that your order is so small, they will have to work around the clock to fit your production into the gaps of others, to minimize delay and lose for making your products.

This may be very different from the buyers' exception. They can't imagine to pay 30% deposit first and wait for 2 months' production.
They feel insecure. They don't know what may happen during this period.
In contrast, if they buy from their local wholesaler, they can get the goods as soon as they pay.

5) Limited Choices (for models/patterns/colors) of diabetic shoes for women

Buyers are usually upset with the limited choices they can have. For instance, they want to order 3 diabetic shoes for women with 3 patterns designs, 4 color combinations each patterns designs, 1,000 pieces for color combinations. They want to order more models with small quantities, so their e-shop or paper categories will has a large range of model collection. They will be told by the factory, that this isn't going to happen. Why? The reasons are sort of a repetition of those for problems mentioned above.


A.The sellers have to source materials and parts from their suppliers. Their suppliers also have MOQ requirement for each part and materiel. They can't purchase a trace amount of them just for your little order.

B.It will make them countless troubles in production, and the scheduling and arranging for production, management and communication can all be a mess, if they try to make so many small productions at the same time.

If you are aware of these crucial facts about the REAL WORLD of PRODUCTION and TRADE, and you sincerely are willing to take on your part of risk and responsibility alongside profit, to create a win-win situation, you may then start looking for your opportunities. And for those who are not prepared, or are taking things for granted, it will only waste your time and others'. Please stay away, or you will end up with nothing but frustration and disappointment, or worst.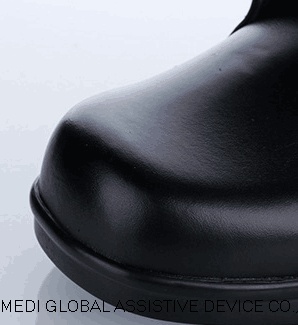 Why MEDI-REHATEK built diabetic shoes for women?
Reason 1: Build for our customers who order the diabetic footwear from us!
Reason 2: Diabetic footwear in hot brand is very expensive!
Reason 3: Just warm-hearted. The beautiful and practical diabetic footwear is a MUST for the injured patients.
Why buy the diabetic footwear from MEDI-REHATEK?
Key point 1: Same
MEDI-REHATEK built the diabetic shoes for men completely according to the patient's body type, to ensure the suitability , as well as every part's position are fit for patient's body type.We only provide the best quality to our customers. Every diabetic shoes for men is fabricated carefully by talented craftsmen to its supreme details.

Key point 2: Low Price
Our diabetic shoes for menfor sale has very high cost performance ratio. All our orthosis and prosthesis are 100% fabricated by our highly skilled craftsman. And our price is only $5-$60, only a quarter of other factory price or even cheaper. It is the lowest price you ever find to such quality guitar. Please contact us for the specific price to build the diabetic shoes for men.
Key point 3: High Quality from MEDI-REHATEK
Peruse our range of ISO-,CE- and FDA-approved prosthesis, orthosis ,wheelchairs,compression garments and other rehabilitation devices, and source from a company, whose R&D abilities are trusted by top medical organizations.The top rehabilitation hospital in the US – the Rehabilitation Institute of Chicago along with 100 other hospitals, depends on our innovations to do their work. Members of our development team average 18 years' experience, and can develop new items in as fast as 10 days.
Key point 4: MEDI-REHATEK can modify the parts you don't like on the diabetic slippers.
As a professional orthosis and prosthesis factory, we are able to make all kinds of diabetic slippers in any style.
You don't like the material of orthosis and prosthesis, Ok, let us change!
You don't like the set up of orthosis and prosthesis, Ok, let us change!
You don't like the color of orthosis and prosthesis, Ok, let us change!
You don't like the ? Of orthosis and prosthesis ........., Ok, let us change!