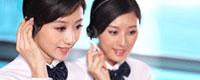 Name: FRED
Tel: +86-13126526612
E-mail: info@medi-rehatek.com
Add: North Yanhe East Road 184,Bicheng Street,Bishan District,Chongqing
Skype: fred201069



Product name : Diabetic foot ulcer shoe

Product No. : QJ-Q1-11/12
Details:
Diabetic foot ulcer shoe is a classical product from MEDI-REHATEK,also it is one of lower limb orthoses.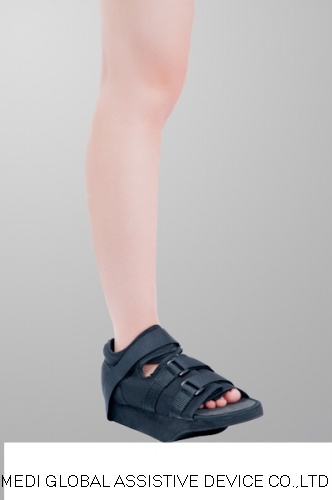 【Item Name】Diabetic foot ulcer shoe
【Specification】large, medium and small
【Product Description】
Toe-opened Foot brace (square head) using DARCO strapless closure technique on forefoot to reduce the pressure on the forefoot buckle, whose scale can be freely adjustable and reaching the annulus margin of 17 cm.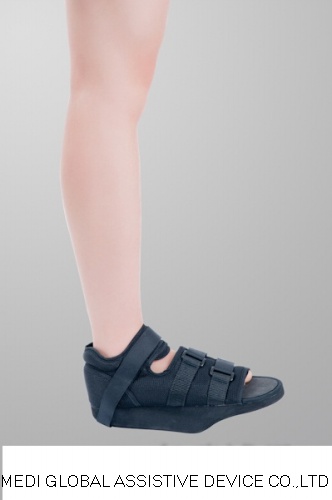 【Product Feature】
1. The front-end design on diabetic foot ulcer shoe acts like the function of a bumper-like affect, which can also offers protection when the feet have Kirschner wire.
2. The unique curved sole design on this post-op shoe can effectively reduce the pressure on the forefoot and heel
3. New opening of surgical shoes on ankle eliminates the risks of heel sliding
4.Stripe-formed soles of post-op shoes strengthen the ground grip of mid-foot
5.Rigid plastics on diabetic shoes provide a more stable protection to your toes
6. Removable insoles leaves the space for the therapeutic insoles.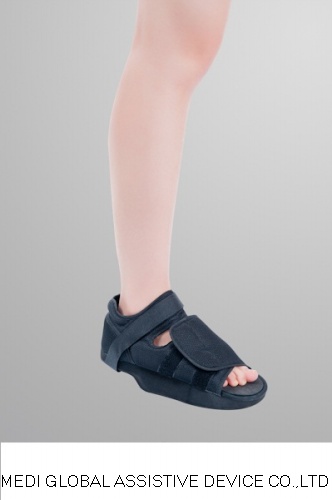 【Indication】
1. Diabetic foot ulcer shoe offers decompression for various causes of skin ulceration of the front and lower portion of sole
2. Diabetic shoe offers free load for patient with metatarsal and phalanges fracture who wants ambulation in early period
3. Toe-opened foot immobilizing brace (square head) adopts DARCO strapless forefoot closure technique in order to reduce the pressure on thebuckle of forefoot.
The diabetic shoes can freely adjust the wearing scale that can reach the circular margin of 17 cm.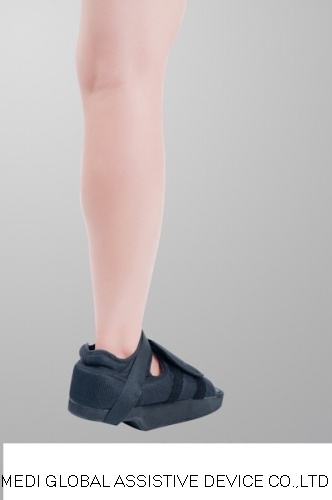 What is Diabetic foot?
A diabetic foot is a foot that exhibits any pathology that results directly from diabetes mellitus or any long-term (or "chronic") complication of diabetes mellitus.[1]
What is Diabetic shoe?
Diabetic shoes, sometimes referred to as extra depth, therapeutic shoes or Sugar Shoes, are specially designed shoes, or shoe inserts, intended to reduce the risk of skin breakdown in diabetics with co-existing foot disease.
Reference:
[1] [2] Boulton in Diabetes, 30;36 2002