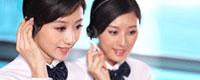 Name: FRED
Tel: +86-13126526612
E-mail: info@medi-rehatek.com
Add: North Yanhe East Road 184,Bicheng Street,Bishan District,Chongqing
Skype: fred201069



Product name : Hallux Valgus Orthotics

Product No. : RF-06-11
Details:
MEDI-REHATEKHallux Valgus Orthotics/Bunion Splint is one of classical lower limb orthoses.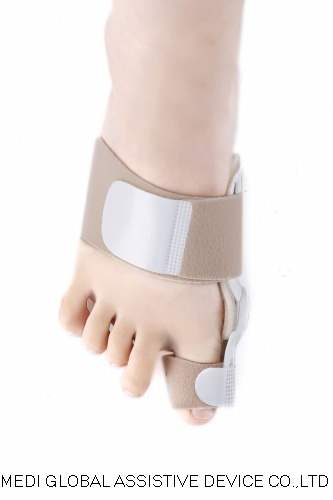 [Product Name]Hallux valgus orthotics in daily use for 24-hour
[Size]Small, medium and Large
[Material] The hallux valgus orthotics is made from high molecular synthetic material, metal buckle, OK cloth
[Indication]
The bunion splint offers an alternative treatment for hallux valgus with mild and moderate degree, also it provides post-operative use for severe hallux valgus and prevention and teatment for hallux valgus
[Function]
Physical correction is a safe and effective conservative treatment for hallux valgus, which has a long history with wide application. The main principle of physical correction is to use the appropriate fixing device (such as hallux valgus orthotics ,bunion splint or other orthotics) to fix deformation of toe.By using principle of physical lever mechanics, the deformation will gradually return to normal position after passing through some time of correction.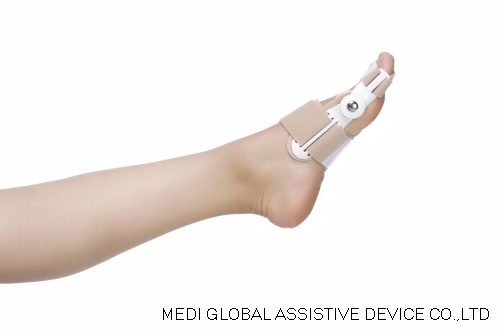 [Specific Prevention Measure as below]
1Choose an appropriate pair of shoes, such as the heel of shoecan't be too high, toe cap should be loose enough.The inside toe has a certain space, it can not feel any pressure. Especially don't wear sharp and thin high-heeled shoes.
2 Do the barefoot movement, strengthen the foot muscle strength, effectively prevent the deterioration of hallux valgus.
3 Move toe to turn inwards with fingers each day, it can effectively prevent the exacerbation of hallux valgus.
4 With the help of orthotics, such as the hallux valgus orthotics, toe-separating pads. It has curative effect on hallux valgus for a long-term wear of hallux valgus orthotics.
5 When hallux valgus seriously affect the quality of life, surgical treatment should be taken even it can't be corrected.
6 Patient should wear health shoes after surgery,and need to wear hallux valgus orthotics intermittently. Foot arch support pad can prevent the recurrence of hallux valgus.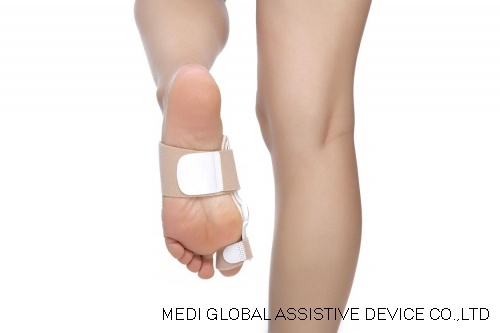 What is Hallux Valgus/bunion?
A bunion is a deformity of the joint connecting the big toe to the foot.
A Hallux valgus, also called bunion, is when the bone or tissue around the joint at the base of the big toe becomes larger.